Article Trouw newspaper
Hoe bescherm je het best zeldzaam Afrikaans wild tegen stropers? Een privaat wildpark in Botswana, eigendom van een rijke Nederlander, zet zwaar in op high-tech.
Een gestroopte neushoorn is een gruwelijk gezicht. Helemaal als je naast zo'n karkas staat. De neushoorn wordt meestal op korte afstand geschoten met een klein kaliber geweer, dat weinig geluid maakt om niet ontdekt te worden, maar waardoor het dier niet meteen dood is. De stropers snijden dan de achillespezen door, zodat de neushoorn niet meer kan lopen. Terwijl het beest vaak nog leeft, wordt de schedel open gezaagd om de hoorn er met wortel en al uit te trekken.
eze afgrijselijk details vertelt Jurgen Elbertse van de The African Experience. Samen met de Quote500-ondernemer Albert Hartog begon hij een privé wildpark met toeristische lodges in het zuidoosten van Botswana. Het wildpark ligt aan de Limpopo-rivier, die de grens vormt met Zuid-Afrika. Elbertse richt zich met zijn organisatie op Botswana en Mozambique. Het doel is natuurbescherming, die in samenwerking met de lokale bevolking tot stand moet komen. Zo wil het tweetal eind dit jaar zo'n twintig ernstig in hun voortbestaan bedreigde zwarte neushoorns in het reservaat hebben. Op termijn zullen duizenden sensoren worden geïnstalleerd die stroperij moeten signaleren.

Botswana had eigenlijk nooit veel last van de internationale bendes die uit zijn op de hoorn van de neushoorn, maar nu het aantal neushoorns in het Afrikaanse land groeit, nemen de stroopactiviteiten toe. Vooral uit China is de vraag groot. De hoorn van de neushoorn is een belangrijk bestanddeel voor traditionele Chinese medicijnen. De hoorn geldt als potentieverhogend. De prijs kan in China oplopen tot 60.000 dollar per kilo, veel meer dan een kilo goud opbrengt.
De afgelopen twee jaar, meldde het ministerie van Wildlife in Botswana, zijn er 56 neushoorns gedood. Maar in werkelijkheid zijn het er veel meer, omdat niet ieder karkas wordt gevonden. Niet alleen neushoorns sterven. Dit jaar kostten confrontaties tussen militairen die de parken bewaken en de stropers al twintig mensenlevens: negentien stropers en één soldaat. "Zuid-Afrika boekte de afgelopen jaren successen met een daling van het aantal gestroopte witte en zwarte neushoorns, maar nog steeds sterven er grote aantallen", zegt Elbertse, die de handel ziet verschuiven naar Botswana. Daar gaat het nu hard tegen hard. "Een stroper van neushoorns weet dat hij het risico loopt om tegen een kogel aan te lopen, of tegen twintig jaar gevangenisstraf."

Elbertse zocht met multimiljonair en investeerder Albert Hartog, eigenaar van investeringsmaatschappij Active Capital Company, naar een oplossing. "We zaten twee dagen samen in de bush rond een kampvuur en maakten een plan", zegt Elbertse vanuit Zuid-Afrika, waar hij in lockdown zit in de buurt van het befaamde Kruger National Park.
Oerbossen op eilanden
Ze kochten land, stukje na stukje, aan de Limpopo-rivier, in wat heet het 'Centrale Tuli Block'. Daar moet een natuurreservaat verrijzen waar eerst zwarte, maar later ook witte zuidelijke neushoorns, opnieuw worden geïntroduceerd. Ooit liepen die dieren immers ook daar in het wild. Elbertse: "Het is een paradijselijk gebied tussen de heuvels met oerbossen op eilanden in de rivier". In de Limpopo-rivier, die over een grote lengte droogstaat, staat precies in hun gebied wél water. Het water in de rotsachtige bodem staat het hele jaar in poelen, waarin krokodillen en nijlpaarden leven. "In dit gebied zitten veel jachtluipaarden", zegt Elbertse enthousiast, "maar ook giraffes, olifanten, zebra's, leeuwen, de bedreigde bruine hyena, bavianen en honderden vogelsoorten." Voor dat opkopen van land zochten ze contact met de lokale gemeenschap: bewoners en chiefs. "Beschermen van wild mislukt als je hen niet meekrijgt in je plannen", zegt Elbertse. "Het idee dat je van boeren zomaar safarigidsen maakt, klopt niet."
Elbertse wilde weten waar hun belangen lagen. "Je zag daar typisch het conflict tussen mens en dier, vooral olifanten die de oogsten opeten en vertrappen. Er was alleen een oud hek dat de akkers en velden niet langer beschermde tegen wilde beesten." Elbertse en Hartog kwamen met de lokale gemeenschap overeen dat er een nieuw stevig hek moest komen van zo'n dertig kilometer lang om het wild in het natuurpark van het boerenland af te houden. "Hekken zijn normaal gesproken een zaak van de overheid, maar we mogen het nu zelf plaatsen", zegt Elbertse. "De handtekening is deze week onder het contact gezet."
Ondertussen is er ook overleg geweest met de vele grondeigenaren met land om die zevenduizend hectare van de Timbo Afrika Foundation. Veel boeren zijn hier gestopt omdat het landbouw of veeteelt niet erg rendeert in de heuvels. "Het land eromheen, zo'n 70.000 hectare, ligt ongebruikt. We hebben afspraken gemaakt dat wild daar nu ook vrij overheen kan, zonder te worden gejaagd of verdreven. Van de laatste boer kopen we momenteel zijn vee op.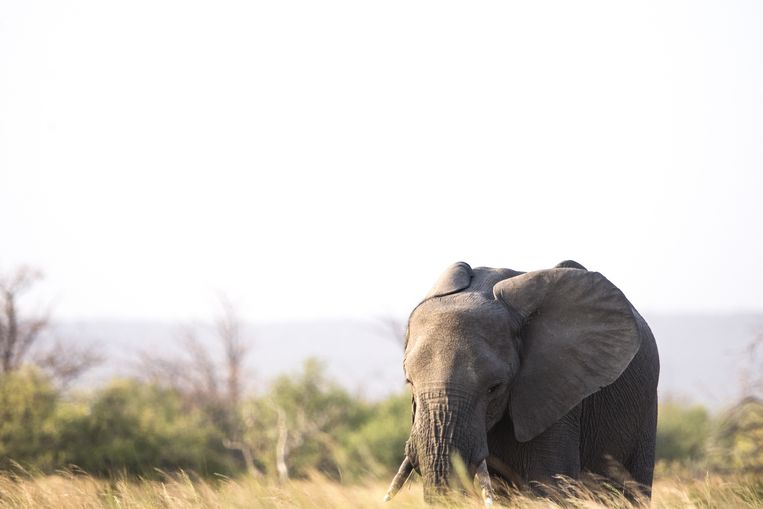 Er ligt nu een uitgestrekt gebied in Centraal Tuli met corridors naar het noorden van het land en naar Zimbabwe, waardoor olifanten makkelijk hun oude trekroutes kunnen oppakken, zelfs richting Kruger Park in Zuid-Afrika. "Die corridors zijn belangrijk om parken te verbinden, maar als je mensen die daar wonen niet meekrijgt, dan is zo'n concept gedoemd om te mislukken." Ook hier heeft Elbertse veel tijd in gestoken.
Stropers
Een privaat wildpark met straks neushoorns klinkt mooi, maar dan moeten de stropers wel buiten de deur worden gehouden. Daarvoor is Smart Parks ingeschakeld van Laurens de Groot. "Met legerpatrouilles in jeeps en met vliegtuigen ga je het niet redden als het om bescherming gaat. De natuurparken zijn daarvoor eenvoudigweg te groot", waarschuwt Elbertse.
De Groot van Smart Parks deed ervaring op in Tanzania, Rwanda, Malawi en inmiddels India. Zijn bedrijf plaatst in het park tienduizenden laag frequente sensoren, die heel weinig stroom verbruiken. Ze komen bij de poorten om auto's die binnenkomen te volgen, net zoals dat gebeurt bij trajectcontroles op de Nederlandse snelwegen. "Zo weten ze wie er in- en uitgaat."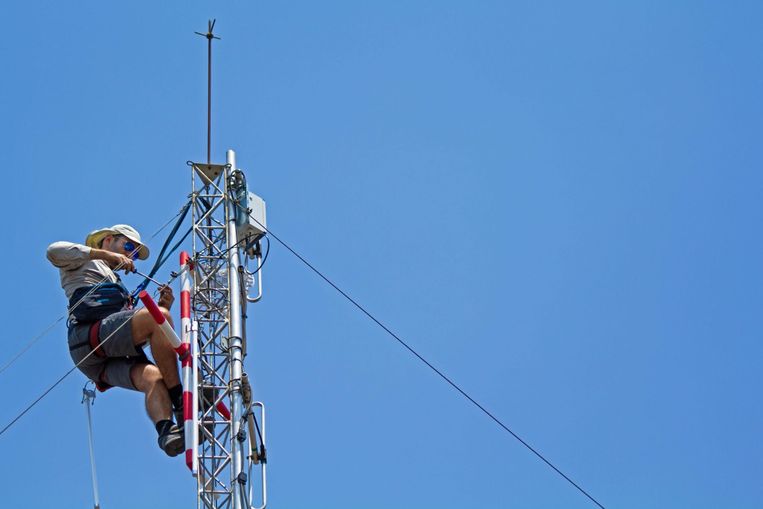 In de hekken om het park zitten ook sensoren. "Als er gaten in worden geknipt door stropers, valt de elektriciteit op de bedrading weg en melden sensoren dat. Dan sturen we er onmiddellijk rangers heen en een vliegtuigje", zegt De Groot. De neushoorns worden straks voorzien van chips met sensoren in de hoorn, zodat ze 24 uur per dag worden gevolgd vanuit een controlekamer waar alle informatie van de sensoren samenkomt op computerschermen. Met die informatie over hun locatie kunnen boswachters altijd heel dicht in de buurt van de neushoorns blijven.
"We hebben in andere landen ook Smart Parks ingericht en zien dan dat het aantal gestroopte dieren fors afneemt", zegt De Groot met enige trots. "In de toekomst hopen we die chips onder de huid van neushoorns aan te brengen met een batterij die een leven lang meegaat. Zo hoeft een neushoorn maar een keer in zijn leven verdoofd te worden, om die chip in te brengen." Maar zover is de techniek nog niet. Uiteindelijk hangt aan alles een prijskaartje. De techniek met sensoren kost veel geld en kan niet zonder subsidies en donaties worden betaald.
Elbertse heeft het natuurpark aan de Limpopo duurzaam ingericht en de kosten, voor onderhoud en het personeel, worden opgebracht door toeristen die in twee luxe kampen met twintig slaapplaatsen in safari-tenten logeren. Van daaruit gaan ze met deskundige gidsen op pad. "Natuurbeheer is een bodemloze put, maar op deze manier komen er genoeg inkomsten binnen om kostendekkend te zijn", zegt Elbertse.